homenavigate_nextBusiness Newsnavigate_nextEconomy
Business News
Research Study on Jobs Market Demand for Bachelor's Degree in Cambodia
Subcommittee of Cambodia Economic Research and Analysis
ACLEDA Institute of Business
Phnom Penh, September 6, 2019
1. Introduction
This report attempts to review on the jobs market demanded by potential sectors in Cambodia in order to supply the fields to meet jobs market needs in Cambodia.
Over the last two decades, Cambodia has achieved high economic growth, approximately 7%. Asian Development Bank Outlook 2017 reports that Cambodia's GDP is expected to increase 7.1% in 2017 and 2018 which is slightly higher than an estimated 7% in 2016. Its economic growth was contributed by four main sectors such as agriculture, industry, tourism, and service sectors. Growth in industry is projected at a slight higher rate of 10.8% and 6.7% in service sector driven by buoyant domestic demand tourism in 2017.
Particularly, tourism sector has shown strongly growth in Cambodia over the last decade. According to the World Travel and Tourism Council report in 2015, Cambodia's tourism industry contributed to Cambodia's GDP around KHR 20,504.6 Billion (29.9% of GDP) in 2014, and expected to rise by 6.5% to KHR 41,607.9 billion (28% of GDP) in 2015. Tourism created directly jobs around 985,000 jobs (11.7% of total employment) in 2014, and is expected to increase 1.6 million jobs in 2025. Moreover, it was huge indirectly jobs creation supported by the industry about 26.4% of total employment (2.2 million jobs), and expected to expand employment to 3.2 million jobs in 2025 (32.6% of total employment). Additionally, according to SOK CHAN (2017) cites from TITH CHANTHA, ministry secretary of state, the master plan for tourism development in Cambodia has already implemented at both provinces and the city. The plan included infrastructure development, clean and green resorts, well-managed social order, widening and building new roads to reach resorts, offering good services, quality, hospitality and manpower in the tourism sector.
Industry sector has presented positively growth about 7% (2009-2012), and continue increasing 9.3 % (2012-2018). Service sector has also notably grown from 4.7% (2009-2012) to 7.5 % (2012-2018). Employment growth has high growth approximately 7.79% (2009-2012) to 16.06% (2012-2015) for industry sector; while 8.76% (2009-2012) to 14.26% (2012-2015) for service sector (CHOEUN, 2016).
National Employment Agency (2016) studied on the current situation of labor market in Cambodia. This study is forecasted the annual number of new jobs growth from 2014 to 2019, which are shared by different sectors. The report results that trade sector creates highest annual new jobs about 64,580 jobs, followed by Garment (55,689 jobs), Hotel & Restaurants (55,181 jobs), Construction (36,836 jobs), and Transport & Communication (13,634 jobs).
Moreover, another study done by National Employment Agency surveyed on the employers' skills need in 2015 by interviewing 528 establishments about employment creation across 10 sectors, including Food and Beverage; Garment, Apparel and Footwear; Rubber and Plastics; Construction; Finance and Insurance; Accommodation; Transportation; Warehouse and Logistics; Human Health; Education; and Information and Communication Technology (ICT). This study found that the biggest percentage increase of employment level was construction sector (40.8%), followed by the finance and insurance sector (38.0%) during 2011-2014. The same study also indicated that the overall employment growth rate across 10 sectors increased about 48,682 jobs between 2012 and August 2014. The overall employment expects to increase with a growth rate of 6.1% or the creation of about 28,000 additional jobs in 2015.
Interestingly, according to a new study done by the National Association of Colleges and Employers (NACE) surveyed on 201 US companies about which degrees they look for most when hiring. The survey reported on the World Economic Forum Website in 2016 that computer science degree is the 2nd top bachelor's degree demand in the fourth Industrial Revolution Countries. This major is the top master's degree most demand in the Fourth Industrial Revolution Countries as well, which Cambodia is struggling to integrate herself to be a member of the Fourth Industrial Revolution Countries in 2024 (cited from Cambodia's Industrial Development Policy First Draft 2014-2014). So this skill will be much needed in Cambodia.

Source: World Economic Forum (Cited from https://www.weforum.org/agenda/2016/02/which-degree-will-get-you-hired/)
2. Cambodia's Skills Challenge in Jobs Market
The goal for Cambodia is to become a middle-income country in 2030. This country introduces the industrial development policy to increase the country's industrial sector by aiming to add up 30% of GDP in 2025, compared with 24.1% in 2013 (Mark, 2016). To achieve this economically, Cambodia needs to diversity its exports base from garment into light manufacturing, electronics, food processing, and other higher-skilled and higher-skilled and better-educated workers (KAING, 2016).
Moreover, according to the PILY WONG, CEO of MDO Cambodia and Former VP of Cambodia's ICT (information and communication technology) Federation said that there is growing demand for more advanced computer and tech skills. He suggested that students should take courses that teach advanced courses on Java/net programming, network engineering, web development, mobile app development, and graphic design. These skills will be in higher demand as Cambodia integrates into the ASEAN economy.
Based on the DINGMAN gave an interview with KHMER TIMES Newspapers about Bridging Cambodia's Skills Gap. She emphasized that hospitality, trade, import/export, banking and education are most job vacancies nowadays and other sectors such as the information technology, automotive and construction are climbing very fast on the listing vacancies today, and in the future.
However, the main challenge in shift towards a more light manufacturing-driven economy is the skills and human resource gaps that exist. Especially, the new booming sectors (manufacturing, tourism, and construction) create new jobs, which skilled labors are needed. Yet, employers in these sectors reported that graduate students' skilled labors don't respond their needs (NEA, 2016).
Specifically, employers are difficult to find employees to fill the positions. Accommodation, logistics, warehousing and transportation are the hardest sectors to find the skilled labors to fill vacancies, 53.5% and 45.7% respectively. Food and Beverage (33.2%), ICT (17.4%), and Insurance (15.6%) have shown significantly skilled shortages to fill in these sectors (Figure 1).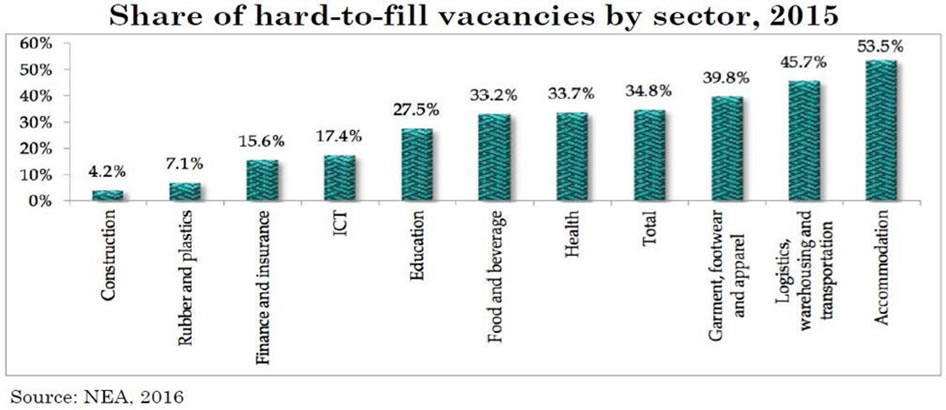 Figure 1: Share of hard-to-fill vacancies by sector, 2015.
Cambodia's Information Technology (CIT) sector has also seen positively grown due to an increasing prosperity and growth in both manufacturing and agriculture industry. This leads to increase the demands on IT sector for providing the modern IT solution for other non-technology businesses (Markova & Wray, 2016). However, IT sector is facing an enormous skills gap that is lowering the industry's development. Markova and Wray (2016) studied on the Cambodian IT industry skills for a digital economy. This study surveyed on 21 IT-focused businesses and 63 IT students in Cambodia. The study found that 75% of businesses interviewed were unable to hire competent IT staff at entry level, and importantly IT project manager and team leader. The IT course is very needed in this sector.
3. Recommendation Opening More Majors at HEIs
From above literature reviews, I would like to give a suggestion for Higher Education Institutions (HEIs) management team to consider about opening more majors in a respond to the skilled shortage and future labor market demand in Cambodia.
The following suggested courses are also greatly consistent with the ministry of education, sport and youth Education Policies; along with Cambodia's current economy development. Each of new suggested majors provides the career guidance after graduating the courses. There are 5 majors such as International Trade, Logistics and Supply Chain Management, Risk Management Insurance, Business Information Technology, and E-commerce Management; which these majors are under the Department of Business Administration. The second department is Department of Tourism and Hotel management; which should be offered 2 majors (Hotel Management and Tourism Management). The third department is Department of Science, which should be offered 2 majors (Computer Science and Information Technology). The detail information is as following:
3.1 Department of Business Administration
Bachelor of Business Administration in International Trade
Career Guidance

Import-Export officer/agent
International sales and marketing
Purchasing officer
Supply chain management
Foreign currency investment advisor
International banker
Contract manager
Global logistics manager
International banker
Commodities broker
International trade buyers
Trade consultant
Trade compliance law specialist
Exporters or Importers
International securities analyst
Foreign service officer
Etc.

Bachelor of Business Administration in Logistics and Supply Chain Management
Career Guidance

Shipping and packing clerks
Stock and freight clerks
Managers for operations, labor, transportation, distribution, and storage
Customer service manager
International logistics manager
Inventory control manager
Inventory coordinator
Warehouse operations manager
Logistics manager
Logistics services
Logistics software manager
Materials manager
Production manager
Purchasing manager
Supply chain manager
Systems support manager
Transportation manager
Procurement manager
Etc.

Bachelor of Business Administration in Risk Management & Insurance
Career Guidance

Insurance underwriters
Claims administrator
Investment manager
Insurance sales agents
Broker companies
Insurance claims and policy processing clerks
Actuary
Risk Insurance claims manager
Risk control specialist
Insurance carrier marketing
Financial advisor/planner
Risk analyst/appraisal
Etc.

Bachelor of Business Administration in Business Information Technology
Career Guidance

Business systems analysts
IT project managers
Information systems analysts
E-Business designers
Web application developer
Mobile app development
Software engineer
Business IT consultant
Software system tester
Database administrator
Technical and network supporter
Chief information officers
Etc.

Bachelor of Business Administration in E-Commerce Management
Career Guidance

Web Developers and Webmaster
Advertising and promotions managers
Online store owner
E-commerce consultant
Systems design
Online marketing
Microcomputers
Strategic planning
Network design
E-Business analyst
Administrative executive
E-Business project manager
Business Owner
Etc.
3.2 Department of Tourism and Hotel Management
Bachelor of Arts in Hotel Management
Career Guidance

Club Management
Hospital administration and catering
Airline catering and cabin services
Forest lodges
Hotel and catering institutes
Hotel and tourism associations
Hotel and restaurant management
Fast food joint management
Manufacturers and suppliers of hotel and restaurant equipment and services
In food, confectionery, beverage production industries
Etc.

Bachelor of Arts in Tourism Management
Career Guidance

Travel agencies
Lodging manager
Travel coordinator
Congress and fair organizer
Airlines
Holiday resorts
Business consulting
Hotel manager
Restaurant manager
Tour manager
Food and beverage manager
Tourist information Centre
Supervisor
Resort manager
Property manager
Hotel operations
Front office reception
Spa and Wellness management
Concerts, festivals and Exhibitions
Start your own business
Etc.
3.3 Department of Information and Technology
Bachelor of science in Computer Science
Career Guidance

Application analyst
Business analyst
Data analyst
Database administrator
Games developer
Information systems manager
IT consultant
Computer systems analyst
Computer programmer
Multimedia programmer
SEO specialist
Systems analyst
Systems developer
Web designer
IT sales professional
IT trainer
Network engineer
Product manager
Social media manager
Software developer
Etc.

Bachelor of Science in Information Technology
Career Guidance

IT analysts
Programmers
Graphic designers
Hardware and software technicians
IT management
Application analyst
Applications developer
Data analyst
Database administrator
Web designer
Web Developer
Information security specialist
Information system manager
IT consultant
IT sales professional
IT Technical support officer
IT Trainer
Network engineer
Software tester
Systems analyst
Systems developer
Etc.
Reference
ADB. (2017, July 06). ADB Forecasts Cambodia's Economic Growth to Remain Robust. Retrieved from https://www.adb.org/news/adb-forecasts-cambodias- economic-growth-remain-robust
Chan, S. (2017, April 12). Master Plan for Tourism Development. Retrieved from http://www.khmertimeskh. com/news/37450/master-plan-for-tourism-development/
Choeun, H. (2016). Cambodia Labor Market Information System and Public Employment Service. National Employment Agency, Cambodia.
KUOCH, S. (2017). ACAC As TVET And Long-term Support Of Molvt: Policies And Strategies. National Employment Agency of Ministry of Labour and Vocational Training, Phnom Penh.
Kaing, S. (2016). STEM Education in Cambodia. Working Paper. Retrieved from DOI:10.13140/RG.2.2. 36444.59524
Mark. (2016). Cambodia's Skills Challenge; Bridging the Gap. Retrieved
From ASEAN Forum: http://aseanforum.asia/cambodias-skills-challenge-bridging-the-gap-2/.
Markova, J., Wray, C. (2016). Cambodian IT Industry: Skills for a Digital Economy. Digital Rain.
National Employment Agency (2016). Skills Shortages and Skills Gaps in The Cambodian Labor Market: Evidence from Employer Skills Needs Survey 2015. National Employment Agency. Phnom Penh.
World Travel & Tourism Council (2015). Travel and Tourism: Economic Impact 2015 Cambodia, London.